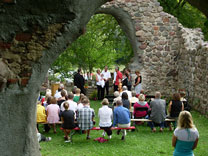 Marriages, Baptisms and other Parochial Events
The Friends are not confined to the historical heritage, but want to bring back life to the churches. If you want to celebrate your marriage or the baptism of your baby in the Rambow church, please contact pastor Dr. Christian Burchard, phone +49 (0)39957 20342, email: gielow@elkm.de, or www.ulrichshusen.de.
The church in Rambow and the castle in Ulrichshusen are in close touch for centuries.